Online GEPCO Bill Payment
Welcome to gepcobill.online! In this informative post, we will guide you on how to conveniently pay your GEPCO bill online through Easypaisa. Easypaisa is a widely-used mobile payment method in Pakistan, making it easy for you to settle your electricity bill from the comfort of your home. Stay with us throughout this article as we provide you with a comprehensive step-by-step guide on how to make your bijli bill payment online. Let's dive right in!
If you are a customer of GEPCO (Gujranwala Electric Power Company), you'll find this guide incredibly helpful. We will walk you through the entire process, ensuring a smooth online bill payment experience using Easypaisa. Don't worry; we've got you covered!
---
How to Pay GEPCO Bill Online with Easypaisa: A Step-by-Step Guide
Even if you don't possess a touchscreen or a high-tech mobile device, paying your GEPCO electricity bill is still a breeze. Thanks to Easypaisa, you can settle your bill from the comfort of your home, eliminating the need to visit a bank or any other physical location.
To Pay Your GEPCO Bill Through EasyPaisa
The Manual Method
Just dial this code *786# to your dial pad and press the call button
Select the "Bill Payment" option from the menu
Choose the Electricity bill payment option from the bill payment menu
Select "GEPCO" from the list that you're seeing in the menu
Enter your 14-digit GEPCO reference number if you can't find your reference number look at your old bill
When you will enter the reference number you will see the amount of your GEPCO bill
Enter your EasyPaisa PIN to complete the payment
You will receive a confirmation message once the payment has been done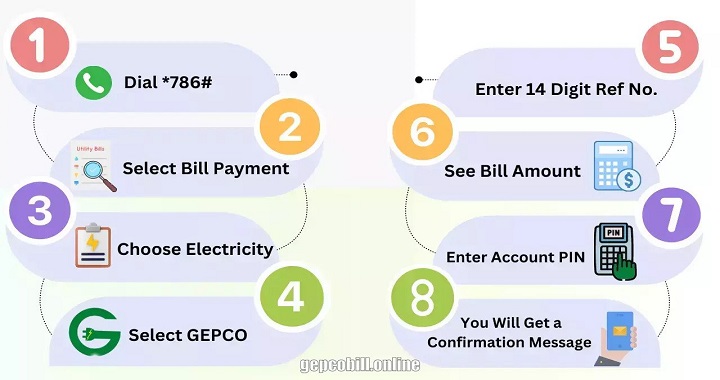 How to Pay Your Bill With Easypaisa App
Additionally, if you have a touchscreen smartphone, paying your GEPCO bill through Easypaisa is incredibly simple. Just follow these easy steps using the Easypaisa app:
Download the Easypaisa App according to your system. I mean IOS or Andriod
Once your app is downloaded just create an account on your easypaisa app or you can also create an account manually
You can deposit money from different methods like Easypaisa Shops, Jazzcash, Banks, Credit Card, Debit Card and other methods
When you have all done just open the bill payment option and select electricity and after it GEPCO
Enter your GEPCO bill reference number to continue
When you will be done you will see your bill just click on pay and enter your PIN
After it you will see your bill is paid you can download the screenshot in the gallery